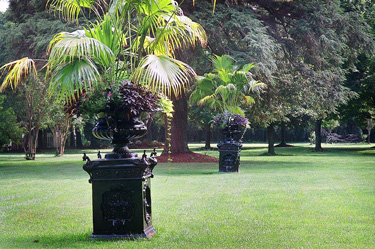 History
Merry Sherwood is a historic Plantation in charming Berlin, Maryland. Originally, it was near 2,000 acres of Tobacco farm, until parceled in the 1960s. The mansion now sits on 19.4 acres, much of it farmed and near 5 acres of manicured grounds with gardens.
Originally, Merry Sherwood was a portion of an early land grant from Lord Baltimore, in the 17th century.
Merry Sherwood has 27 rooms and rises over fifty feet into the sky, dominating the farm and gardened landscape. This pre-Cival War structure was built and designed for lavish parties and for accommodating guests of long duration.
After years of neglect, the present owner purchased the plantation and undertook a five year restoration to bring Merry Sherwood to its original grandeur. It is a three story, five bay, double pile frame structure in the Italianate style complete with projecting cornice and a large cupola, Women of bygone days could look out the cupola windows to spot their men returning to them. In present time, picture your photos as you look out the cupola to spot your groom!
Through the years, the mansion has been furnished with carefully selected antiques of the period to make it the unique venue it is. The ballroom boasts two grand pianos, two working fire places with original marble, hand crafted imported carpets and beautiful lighting.
The mansion continues to host many charity events and now, reopens its doors to weddings and other celebrations.
Destination weddings are welcoming at Merry Sherwood Plantation with weekend accommodations available for members of the wedding party and family with an extra accommodation available for handicapped guests. The hotels, restaurants and nightlife of Ocean City, Maryland are close at hand. The area is rich with water sports, fishing, birding, beautiful golf courses and both antique and outlet shopping close by.
A stunning & unique venue for any special occasion
We can personalize your event with several ceremony and reception sites, located within the five acres of the Merry Sherwood Plantation's beautifully landscaped grounds. Our staff brings with them years of both culinary and event planning experience. Your event at the Merry Sherwood Plantation also includes a coordinator for the day of your event. Consultation services to plan the special details of your event are available, for a small fee, by our experienced staff. We are happy to provide you with a list of our preferred vendors, carefully chosen to serve you with care. An officiate is also available for hire, either on or off site, for events at the Merry Sherwood Plantation.
Parking is free of charge for your guests, on site. The staff can arrange valet service from the circular drive at the front of the mansion. A spacious bridal suite is available within the mansion and the descent down the lovely staircase is bound to be picture perfect! The mansion also has a spacious groom's suite with dressing room and bathroom decorated uniquely. For our beach combing guests, the Merry Sherwood Plantation is just a few miles from hotels and restaurants and about nine miles from the sand in Ocean City or, the quiet splendor of Assateague Island. The Merry Sherwood Plantation can be the ending elegance to your barefoot in the sand beach ceremony! Alternatively, the Merry Sherwood Plantation has a permanent picturesque gazebo or, arrangements can be made for a nearby historic church.